Little Joe the campervan has always had a split personality. On the one hand he is a home on wheels, loved and used as my personal campervan. On the other hand and let's be honest due to massive popularity he is mainly a wedding bus, and in my opinion the best wedding bus!
Ever since taking ownership of the camper in 2008 and starting the business in 2009, myself and Julie have changed, upgraded, repaired and restored parts of the old interior so that it worked as best as possible to fit both functions.   The old interior had a lot of vintage qualities, a lot of heart and a lot of good memories for Julie and I, but also the Brides and Grooms who used our van on their big day.
Old Interior: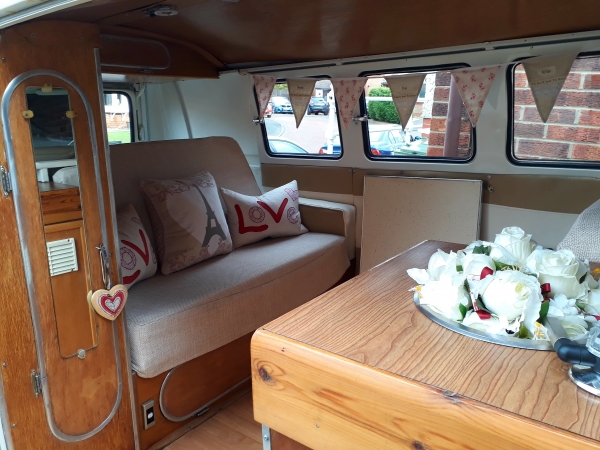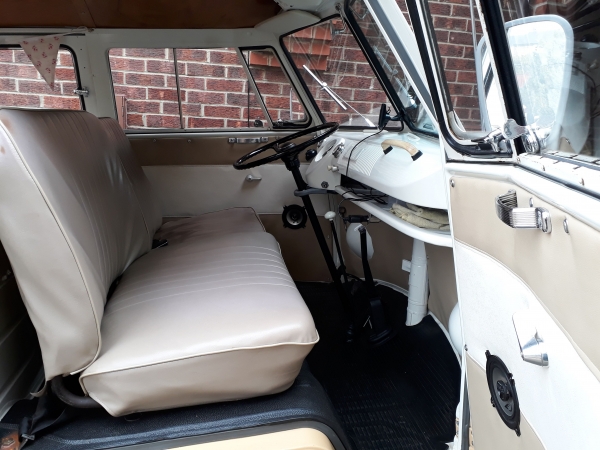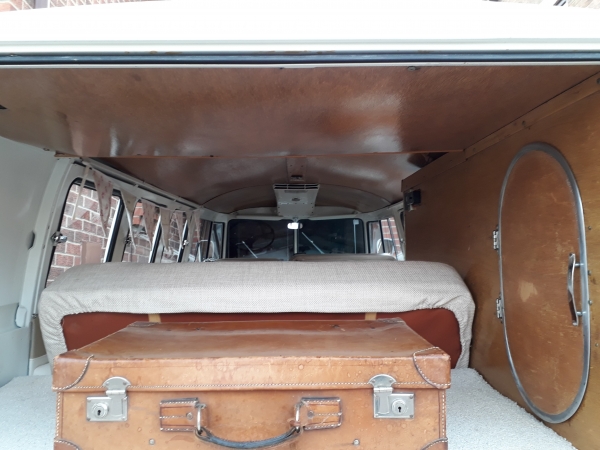 If we were going to replace the interior it was only ever going to be with something so good, so right and so much more stylish and practical that we could bare to leave the old for the new.
The interior was going to be the final big piece of the jigsaw in 'Little Joe's restoration, it is really the exciting part and the part most people want to do straight away. I knew that I had to do the interior last and make sure the interior and exterior bodywork and paintwork were up to standard before paying for an impressive fit out. These were big expensive jobs in themselves and as such had to be done over a couple of years. You can see photos of the work completed in 2015 and 2016 restoring this bodywork in the 2 blogs below:
Photos from Little Joe's exterior restoration 2016
and
In 2011 I bought a copy of a magazine called Camper & Bus which specialise in all aspects of the VW scene in relation too, as the name suggests campers and VW buses. That was where I saw my first and main inspiration for a new interior, a guy called Gary had commissioned a company called All Things Timber to bring what I thought was such a stylish design for an interior to life. Here is a link to showing Gary's interior: Gary's Interior
I loved many things about it, from the quality of the cabinetry, the distinctive curved units at the back of the camper where people get the full impact when looking in, to the design proportion. Design proportion I think is very important in a camper that's so small but especially if it's a wedding bus as well. It would be no good for me to have lots of gas cooking rings, a large fridge, big TV hanging on some ugly bracket. Everything had to be proportionate to the van and his double life.
Taking this bus as a main starting point I wrote a specification for my interior as I wanted to make it work better for my van and for weddings. I firstly wanted it to be made from oak with a clear varnish, as this lighter interior would go better with 'Little Joe's' exterior colours. I also wanted a bit of colour, texture and a wooden ceiling to make van look inside like a posh hotel in North Yorkshire mixed with a posh boat, bit weird I know but I knew what I meant!
Wedding features include a built in Champagne bucket and Champagne flute holder, with a little plaque saying 'Little Joe'. Wedding bunting and cushions to fully match the new upholstery, two properly proportioned seats facing each other to transport wedding guests comfortably and so they can chat more easily. The old interior seating had a bit of a sizing issue as 1 seat was massive and really comfortable but the other was tiny and only just did the job.  The other important aspect of the seats would be the ability to flip all cushions and have a different fabric layout on the back. This allows me to use one side when I get to go camping and keep the other side nice for the weddings.
This was never going to be cheap but I knew using the best suppliers in the form of All Things Timber for the cabinetry, Shane Cooper from Motosparkz for the electrics, Bromsgrove Auto Trimmers for the upholstery and Hectors Treasures for the bunting and cushions it would be a work of art that hopefully pays me back in increased bookings.
To be honest at this point even with the specification written and the intent of putting money away to get the work done, it was still just a dream interior. I must have believed I would one day get it as I kept updating the spec and waking up in the middle of the night with new ideas. I'm a bit like that, worrying about things way in advance of worrying being required!
My second inspiration to actually make the call and book 'Little Joe' in for the work came in 2015 at the Dubs In the Dales VW Festival where I got talking to a couple, with a stunning white Bay window campervan and one of the best interiors I have seen. Of course it had to be an All Things Timber and Bromsgrove Auto Trimmers combo. So good in fact it actually an award for best interior at the show, of which I have heard it's won many more since. Speaking to the couple and seeing the quality of the work up close was the trigger to get the wheels in motion.
Here are photos of the other couples camper, it's a real stunner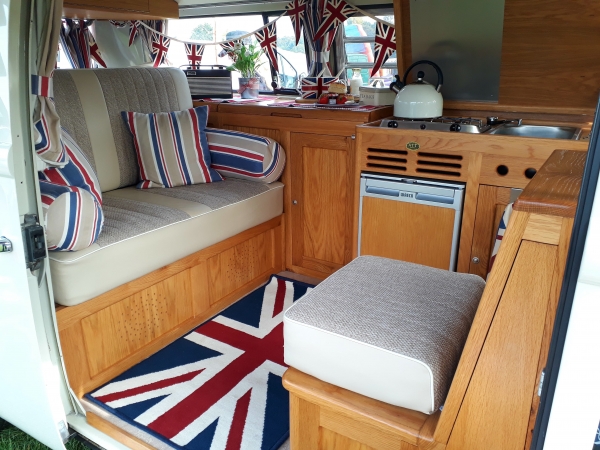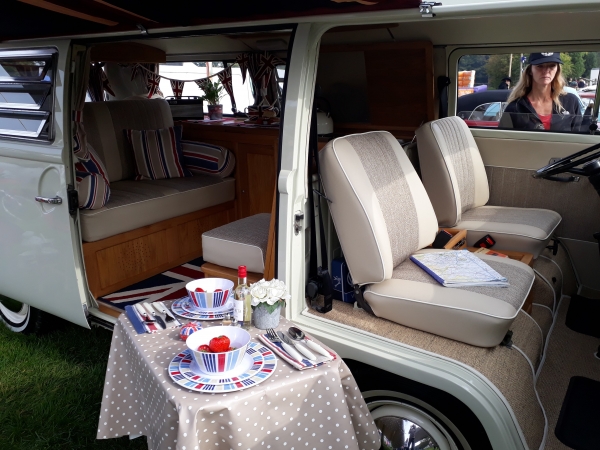 I booked the campervan in but even then it was a long waiting list, bearing in mind I had to save up like a mad man, the end of 2017 was the best time to get the work done.
At the end of 2015 we went down to All Things Timber's workshop in North Yorkshire. I think it's fair to say it was one of my all-time favourite experiences. Not only are Adrian and Jo two of the nicest people I have met they allowed me a rare total indulgence in talking campervan interior options. They offer a totally bespoke service and after listening to what you want, offer expert advice to ensure the interior is the best it can be. I was totally impressed and it felt totally right to invest my money into getting 'Little Joe' a show standard interior.
The third and final inspiration came when Jo and Adrian suggested looking at Moon Fabric for the upholstery. At that time I was happy to copy the fabric used by the couple we met at Dubs in the Dales. On returning home Julie and I had a look at this option, loved what we saw and ordered samples. One of the samples really worked well for us as it had hints of red and beige and remained very subtle which I felt was important for a wedding campervan. I wanted to do more than white everything which is just the easy option that many other wedding car companies adopt, it works but it's not exciting really. I had to be a bit brave as the wrong fabric might look out of place for weddings but I went for Bronte by Moon, Sorbet, Moorland Fabric and I am amazed how perfect it looks. It does help when you have Bromsgrove Auto Trimmers on your side helping to match the other colours and blend things in properly.
Two years passed much too quickly and then it was time. Out with the old interior and it was old, it looked so much better in the van, when I took it out I realised how much I needed a new interior. I sold what I could on ebay and raised about £100, which wouldn't cover the cost of the screws for the new one (not that you can see any screws as Ade is a top craftsman)!
So here we are the campervan vision is now complete, although classic vehicles never seem to have a restoration completion date especially not when they are used often but in the main 'Little Joe' is done…. For now!
The new interior photos: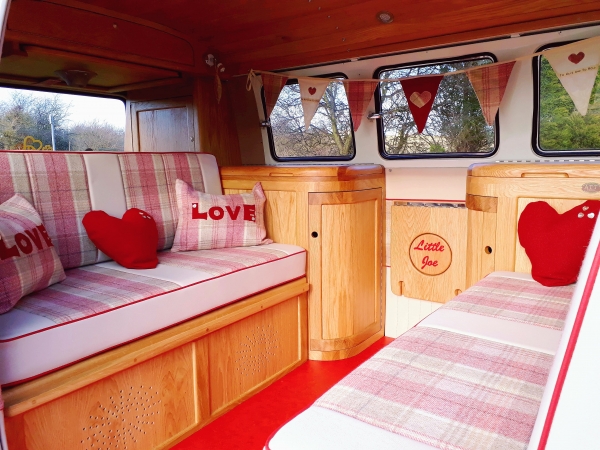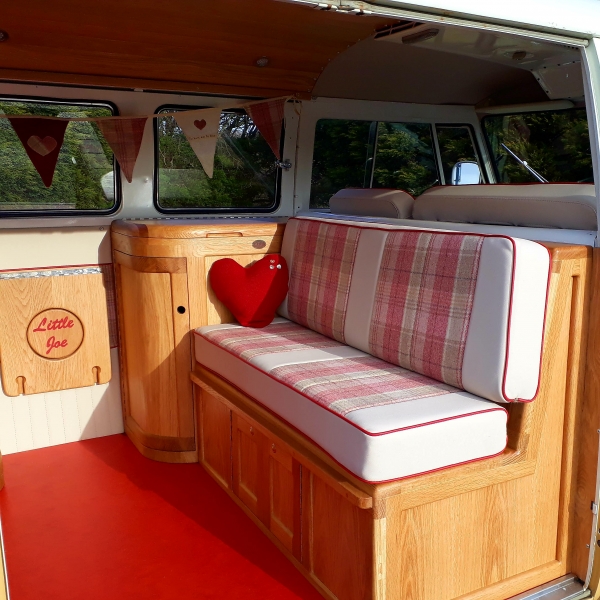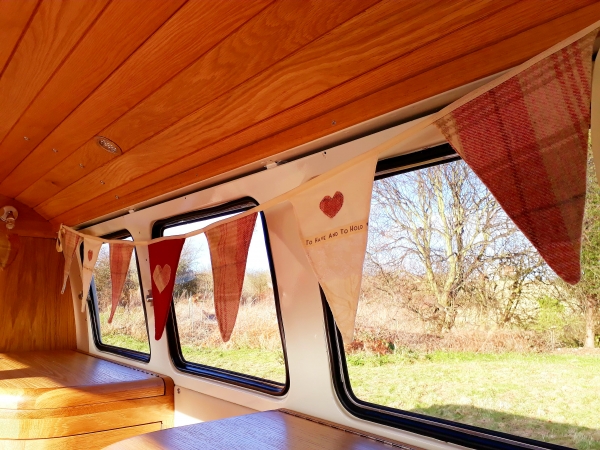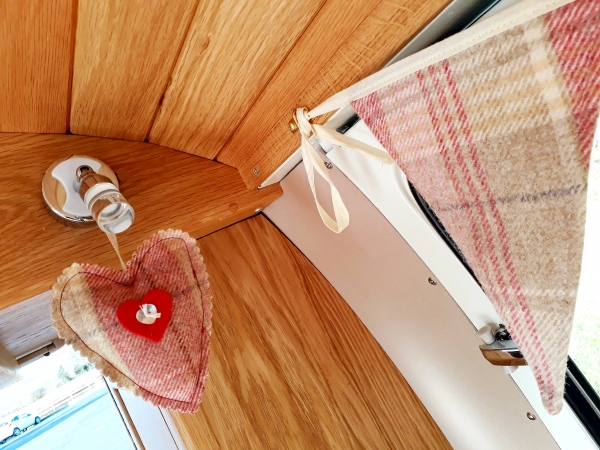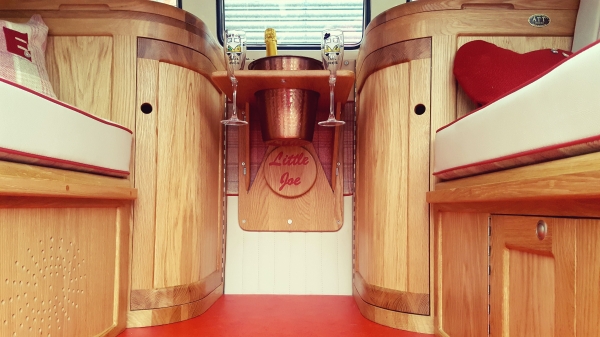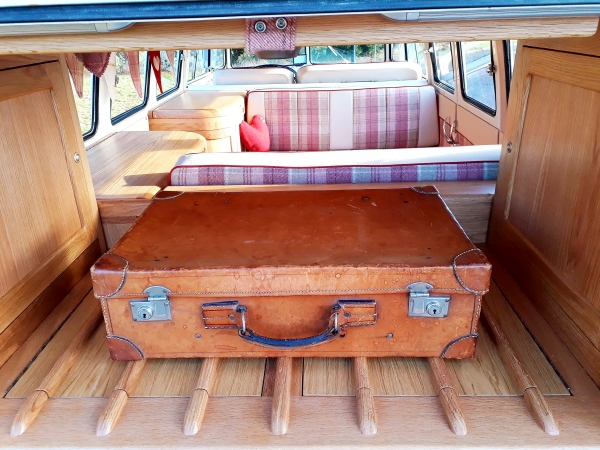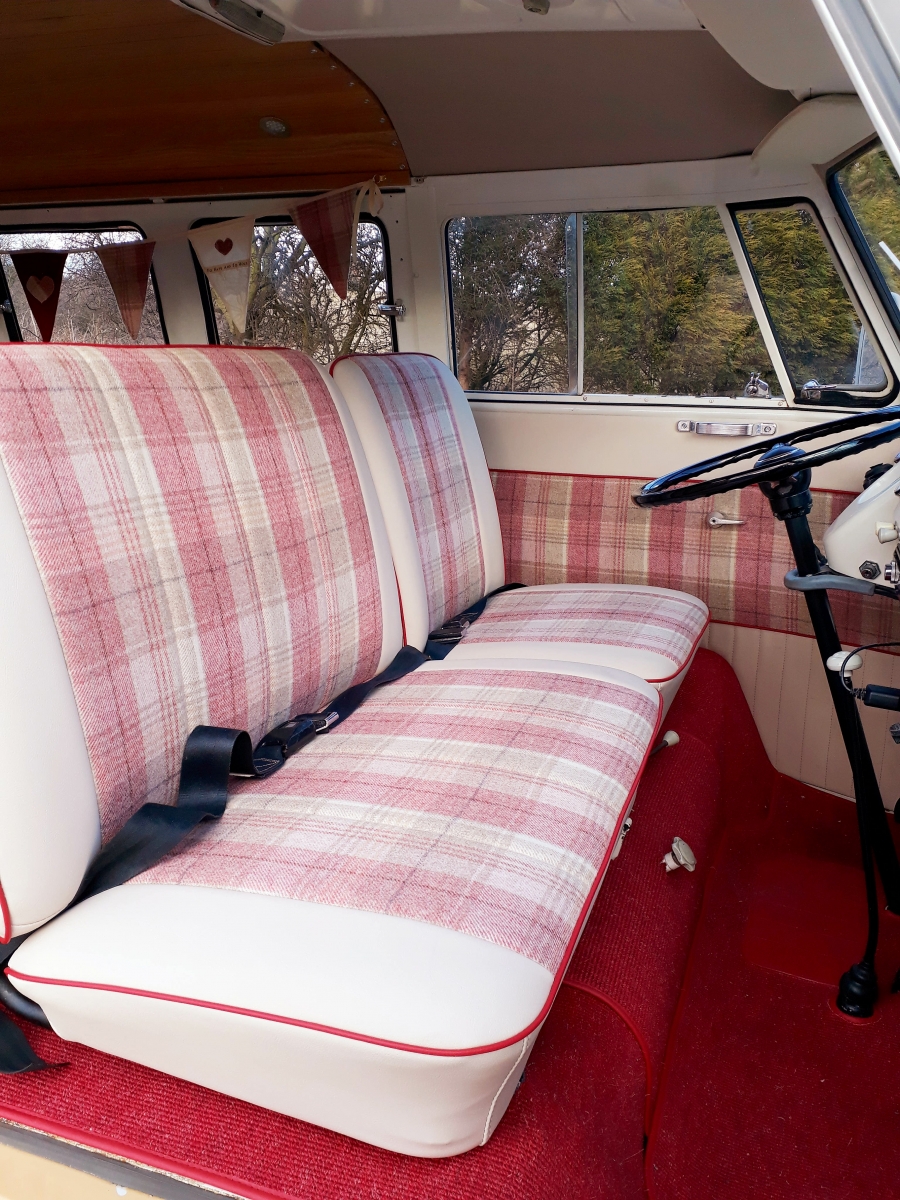 I couldn't be happier with the finished results. The people who have been involved in this renovation deserve a massive thank you for hard work and passion in bringing this vision to life. I will be forever grateful to All Things Timber, Bromsgrove Auto Trimmers, Hectors Treasures, Shane from Motosparkz and of course the main man Jay Parker for keeping our campervan maintained (mechanics and bodywork) to the highest standard year in year out. That's the final step before we are ready for 2018! Thank you so much
If you would like to book either our campervan or beetle for your big day you can check availability here: www.cannycampers.co.uk/vw-wedding-enquiry