Canny Campers HQ has been a strange one this year, we have experienced the busiest season ever but the weddings have been grouped together in such a way that still allows the odd weekend off, which is nice.
October is very quiet so Julie and I have taken the opportunity to use 'Little Joe' again as a campervan and visit the beautiful Yorkshire Dales.
The Campsite:
Catgill Campsite – http://catgillcampsite.co.uk/
This campsite is exactly what I like when taking the VW Campervan and the first thing you notice on arrival are the stunning views that surround you, secondly the fact you can park up anywhere on the field and allow a bit of privacy between camping spots.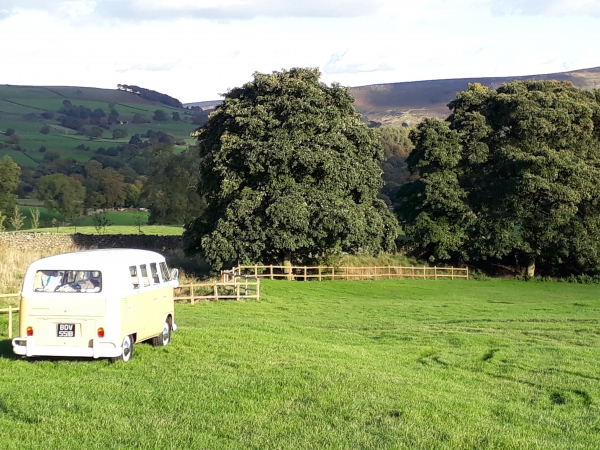 We paid £20 per night to stay and this is a non-electric pitch, the site at the moment doesn't have electric pitches but this is due to change in 2019. Of course, the beauty of not plugging in is the freedom to park in your desired location.
This is a strange one, if you check out the web-site it states they can only take VW Campervans and of course tents. I gather they can only accept small campervans and the reference to VW Campervans is just a size guide but to be fair all the vans on site were VW's!
It is a very relaxing place to be, plenty of space to play outdoor games such as Frisbee and if you have young children or a dog its perfect to give them some freedom to run around and explore.
For £15 and £10 deposit you can hire a fire pit with logs and kindling and this is a really good touch. This site is not really beside a traditional style pub (more on that later) and this meant we could spend a night around a cosy fire with drinks we bought from the co-op in Addingham a village a short drive away.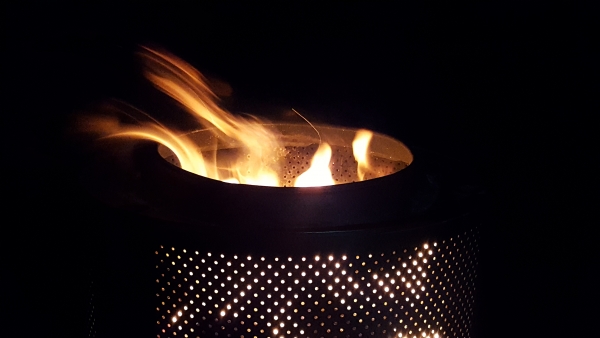 The toilet block is well equipped, I imagine even when busy you won't be waiting around to use toilets, sinks or showers. The showers are hot and best of all they have a proper door between the changing section and the shower block. Perfect! no wet floor so you don't need to hop around trying to get your socks on without getting them soaked.
Location is excellent as it is close to Bolton Abbey which has stunning grounds and a few places to have food and a cuppa. There is enough to keep you busy all day, if your into walking and it's great for kids with a mixture of added and natural play areas.
Its also just a short drive into Skipton, a medium sized town with plenty of shops and a picturesque canal running through the centre.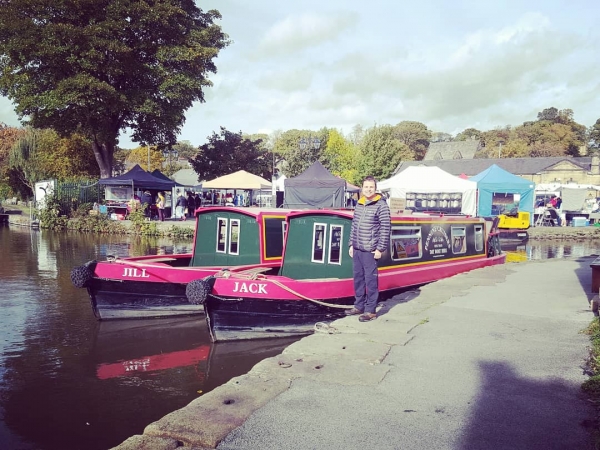 Another short drive from the campsite is the most amazing ice cream parlour with playground and an American airstream selling coffee. What a great business, it is very reasonably priced and offered free playground facilities. I was very impressed with the level of detail of the décor and the fun busy atmosphere. To be honest I was a bit jealous it wasn't mine and Julie's business as it clearly had been grown and perfected over time, a credit to the owners. Here is the web-site: https://www.billybobsparlour.com/
Here is the lowdown on how we spent our 3 days 2 nights but there will be more to do and a second visit will be required, you can find out more about the area and things to do on the campsite website here: http://catgillcampsite.co.uk/activities
Saturday's Activities
Arrived 5pm parked up and had a beer, got comfortable as you do and though why not listen to Liza Tarbuck on Radio 2 at 6pm and just have more beer!
6pm comes, turns out Liza is not on this week. Think to myself, what's that all about she only works for 2 hours on a Saturday, that's less than me. Imagine if she only gets £7.50 an hour, how does she live on that? Tax credits maybe.
So, we know there is a place to eat nearby called the Devonshire Arms. https://www.thedevonshirearms.co.uk/ Its within walking distance and neither of us after a beer fancied getting changed from our walking gear so we thought it will be fine, its probably just a pub that sells pub grub to walkers.
Turns out it's a Michelin star restaurant and for the first time in my life I feel totally embarrassed to ask for a table for two but we were in the door by then.
The head guy managed to find us a table and it was fine, he felt sorry for us and didn't want us to have to walk all the way back to the campsite without any food.
The food was lovely I can't complain but £85 was more than I had planned spending that day on tea and after that we had to cut our cloth for the rest of the weekend. Should have guessed it was posh when one of the diners arrived in a helicopter!
After lunch we had an enjoyable starry walk back to the campsite, I saw a shooting star. Julie told me to make a wish but it never came true. The Devonshire Arms did take the £85 out of my bank account.
Cold night though, it got nearly down to minus 3 and we don't have heating in the campervan but we do have very good sleeping bags. If you are planning doing late season camps I can highly recommend getting a quality down sleeping bag. Check the comfort rating as its different for men and women. Julie has a purple RAB bag that has a minus 8.5 degree comfort rating and she is never cold using that.
Sunday's Activities
After a bit of a lie in we drove the campervan in to Skipton in the morning for food and ate Pie and Mash, can't remember the name of the shop, its right next to the long stay car park. It was busy and food was good.
As mentioned earlier Skipton is very picturesque and good for a couple of hours looking in the shops and taking a walk along the canal.
There is an old steam train not far from Skipton and they do food and train rides in a series of styles i.e. The Breakfast train, afternoon tea train, fish and chip train and a few others. Unfortunately, they were fully booked for all and so we just went to the station for a look. It's a proper steam train and would be a good addition for a weekend away if you plan it in. I think it was £26 per person for the fish and chip train.
All was not lost as we instead went to Billy Bob's parlour for a very satisfying scoop of cookies and cream and key lime pie ice cream. A great place for kids and families and although really busy with younger ones still enjoyable for just adults. It was a sunny day and nice to sit out on the mad swinging chairs they have there.
On the night time we just cooked outside of the campervan and made use of the fire pit that you can hire from the campsite. A lovely chilled night and with just 3 sets of campers it was nice to almost have the field to ourselves.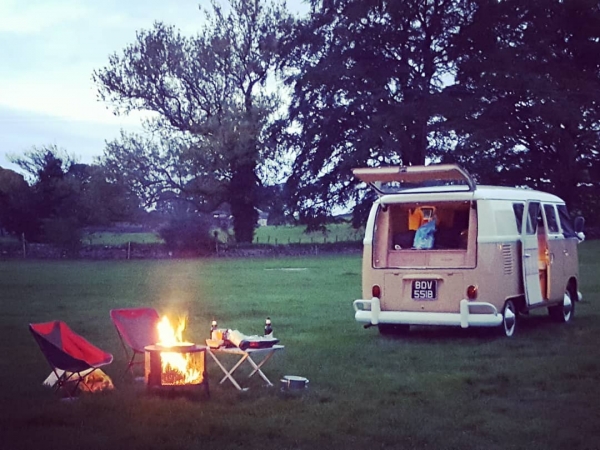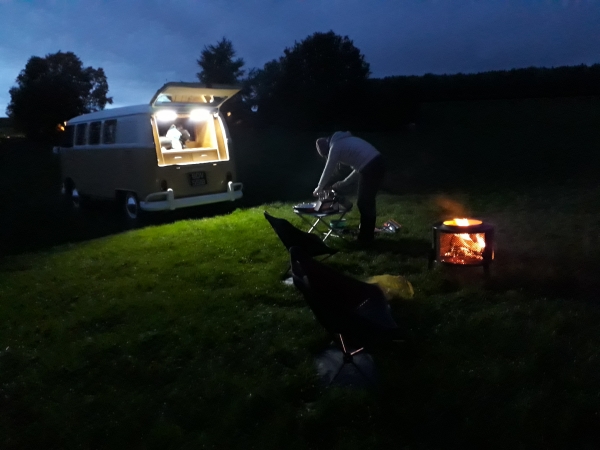 Monday's Activities
I don't like to rush off on the last day and so we though it best to actually visit Bolton Abbey / Priory as this is right on the door step of the camp-site.
It was £10 to park, this covers the admission as well and it was £10 well spent. It is unlikely that you will find a more pleasant place to go for a long walk. The grounds are kept in immaculate condition and you can walk for miles along the river or taking various diversions. Plenty of things dotted about to keep it interesting as well and we saw a fair bit of wild life.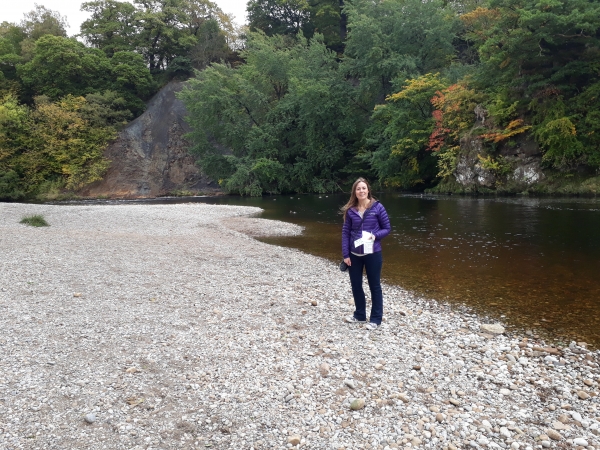 You can take a look inside the abbey, walk over the river using the stepping stones or various bridges, have food and tea in a couple of different places on-site or nearby and they have toilet facilities and a gift shop as well.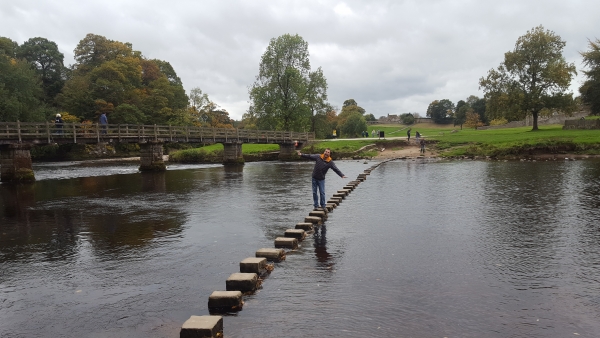 We didn't really experience as much of Bolton Abbey due to needing to head home so once again much more to explore next time.
Final Thoughts
An action packed but relaxing weekend for those who like long walks, good food, stunning scenery and quaint shops. Yorkshire really is perfect and no more so than here.
The only down side is that for a camping trip we did spend a fair amount with the campsite fee and fire pit hire, eating out and parking charges but nobody could accuse us not of supporting the local businesses.
Happy camping!