It's that time again where I look back and forward at a vast array of weddings where I have provided my VW Campervan and VW Beetle, to work out to which venue's I attend the most bookings.
The Data Used
I have analysed 121 weddings that I was part of in 2018, 2019 and the future bookings I have so far in 2020.
The six listed below have been attended by Canny Campers on multiple occasions and they are listed in order of most visited, we do however have a couple of joint scores this time.
The Results
Wedding Venue Name: Healey Barn, Riding Mill, Northumberland
Venue Rating: Joint 1st out of 67 different North East venues attended
About: Healey Barn is a wonderful 18th Century Stone Barn, restored and decorated to the highest standard. A lovely sunny courtyard perfect for guests to enjoy a drink, relax and get into the spirit of the day. Canny Campers love the venue and it has a few lovely forests very close by. We often take the Bride, Groom and usually the photographer for photographs in the forest after the ceremony, should they so desire.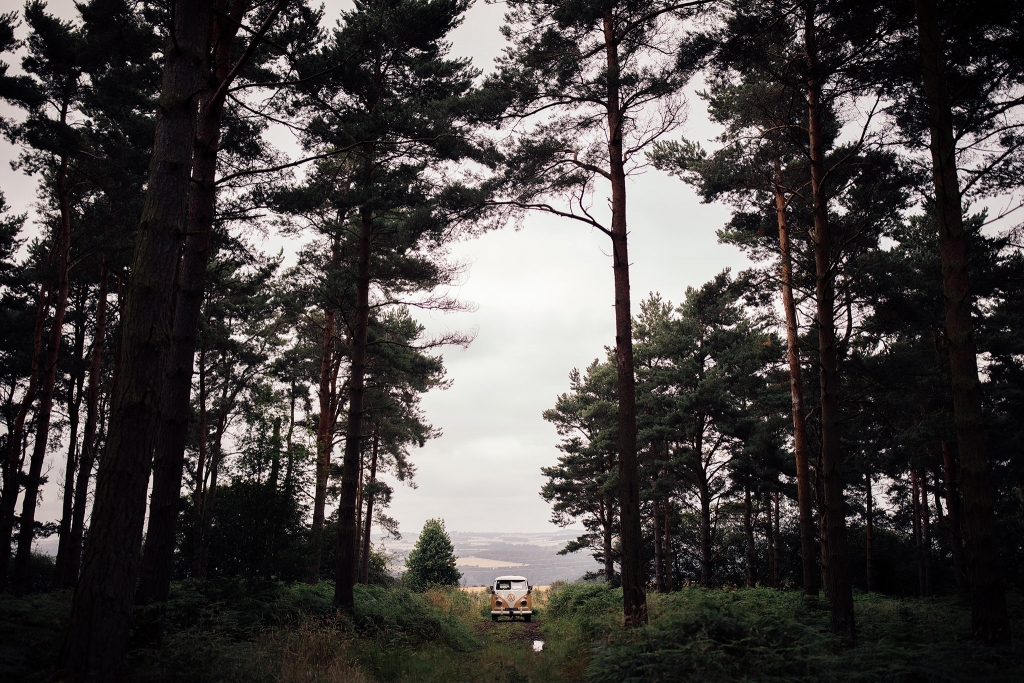 Healey Barn is ever improving and can now offer guests perfect accommodation for up to 34 people, within walking distance of the venue. This doesn't mean you should stop booking wedding transport though, that would be a crazy thought! It's nice to make an entrance and have the wedding car as a feature and talking point. We are happy to do multiple trips from Healey Hall and give your guests a trip in the camper and / or Beetle, also we stay for photos after the ceremony where you get your personalised campervan flutes.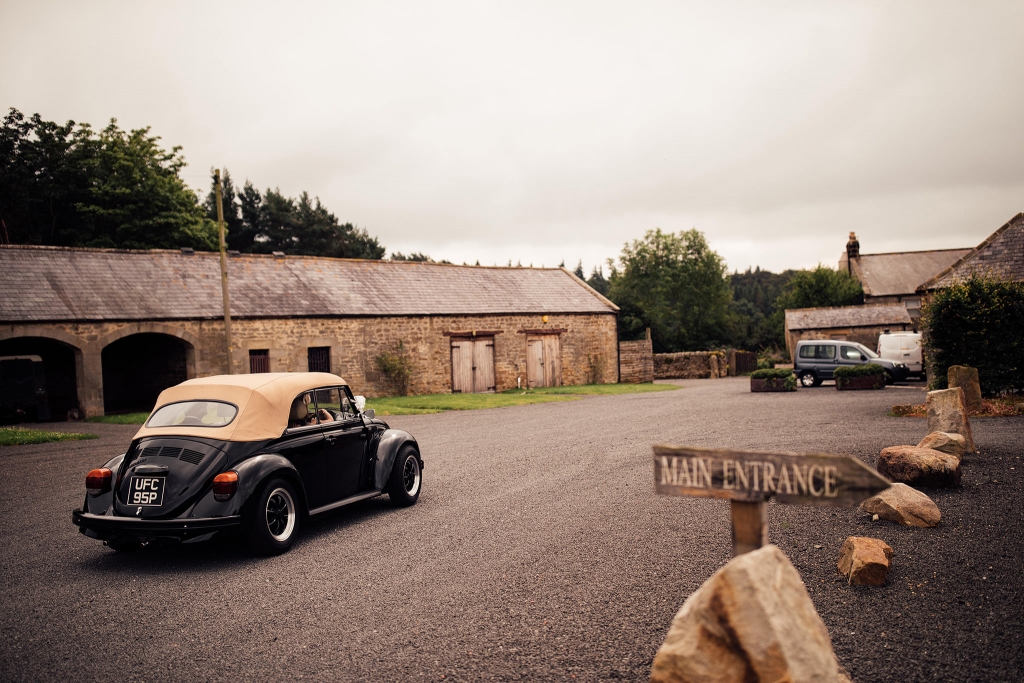 'Healey Barn has a civil wedding licence for both inside the Long Barn, and outside in the sheltered courtyard. Therefore, you can get married in the barn in the afternoon and follow on straight into your reception.'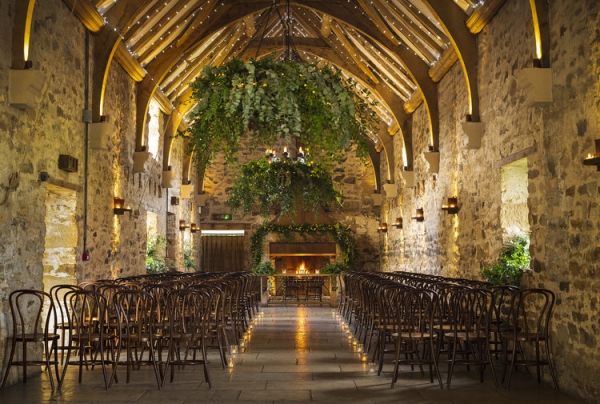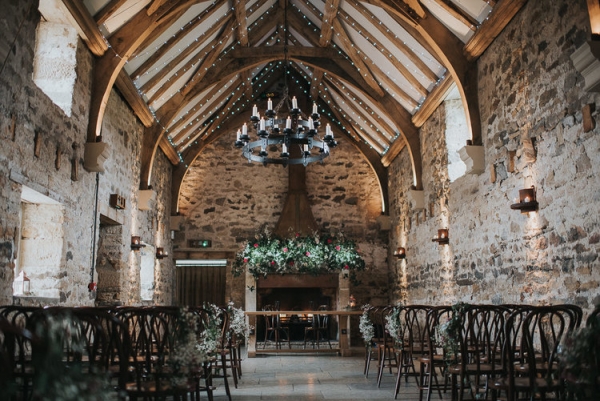 'Healey Barn is also close to many Churches, so if you choose to get married in a church, then you can still use Healey Barn as your venue for your reception, wedding breakfast and evening party.'
Make the most of your day
'Most venues will close around midnight, just when everyone is really enjoying the party. At Healey Barn your hire period runs until 1.00 a.m., when the music stops and the bar closes.'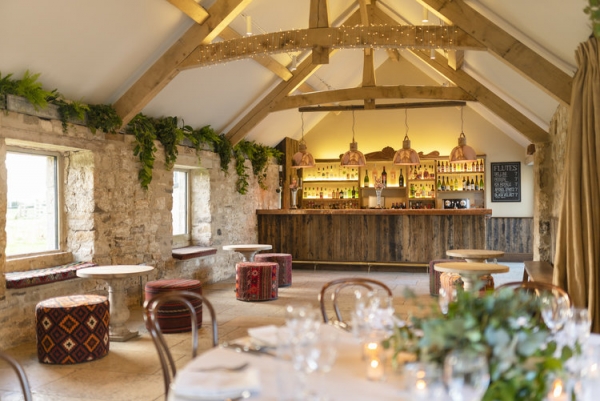 Web-site: Healey Barn, Weddings
Wedding Venue Name: As You Like It, Newcastle
Venue Rating: Joint 1st out of 67 different North East venues attended
About: 'Cool, quirky and one of a kind, there is plenty of room to get loved up in our romantic hideaway – Frangipani.' 'We specialise in weddings of all sizes – tastefully traditional or daringly different – from formal dining for up to 120, or a luxuriously laid-back affair for up to 220. We're fully licensed for ceremonies too, not to mention your own private bar, outdoor terrace and we're open 'till 2am (Jesmond's only 2am License) – look no further when it comes to tying the knot.'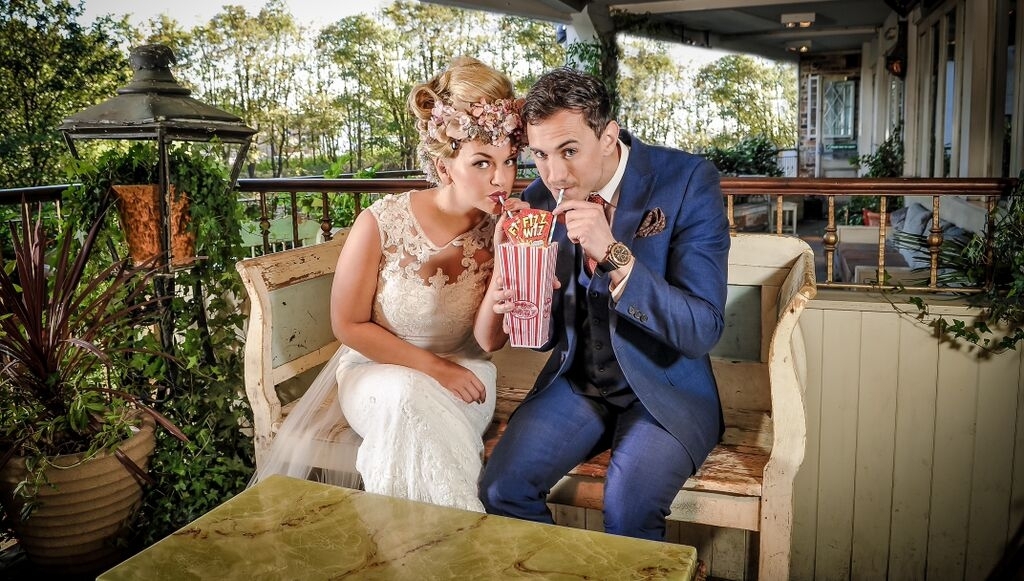 Canny Campers have been providing regular wedding transport to As You Like It since we established in 2009, overall this is our most popular wedding venue and always features a top place when reviewing the data for these blogs.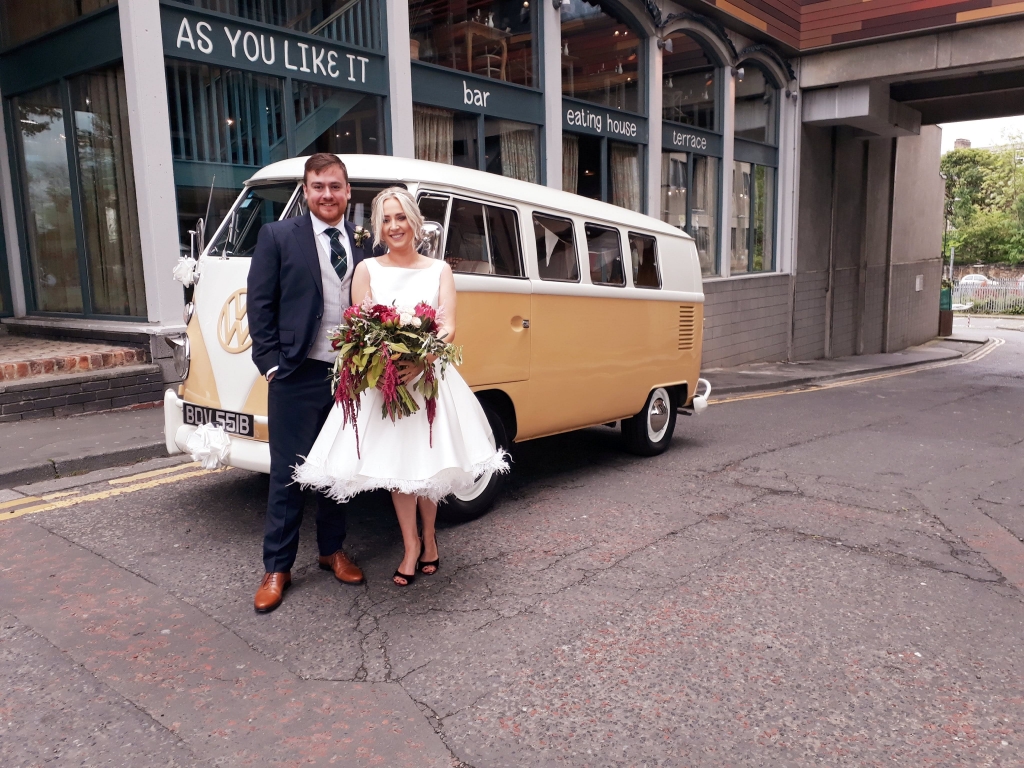 It is such a quirky venue, the staff are great and as my Brother and his now Wife got married at As You Like It, I can confirm the night time party was one of the best nights I have had. Music was amazing, plenty of space to dance and plenty of access to drinks!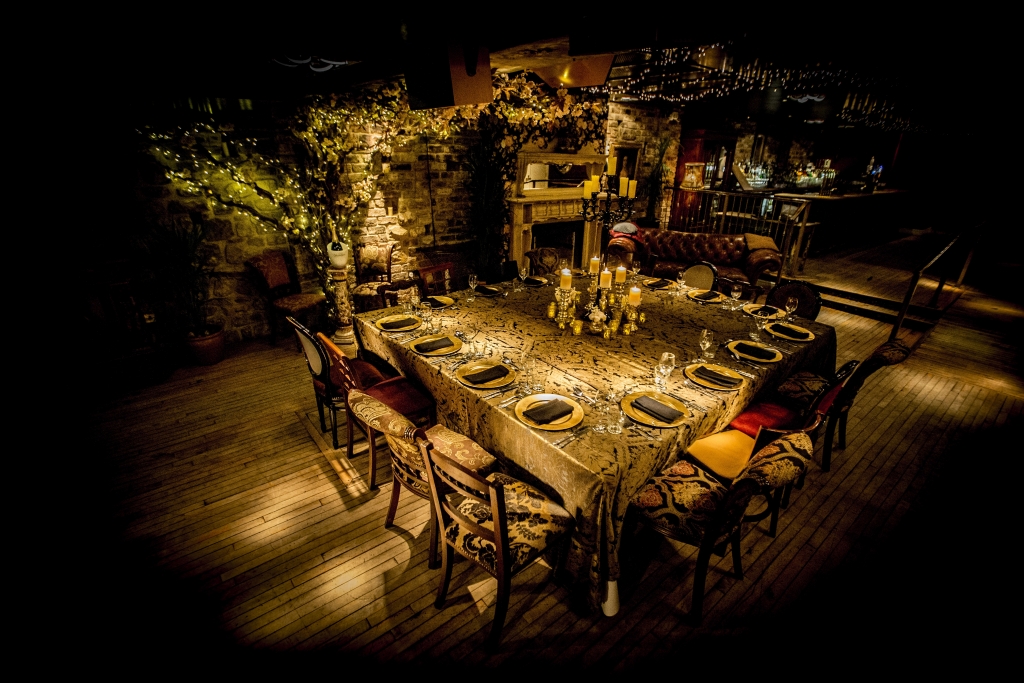 If using Canny Campers for your wedding at As You Like It, as part of our standard package we can take you for photos after the ceremony. Plenty of great places to go including Jesmond Dene, Heaton Park or even a Graffiti wall nearby for something less traditional.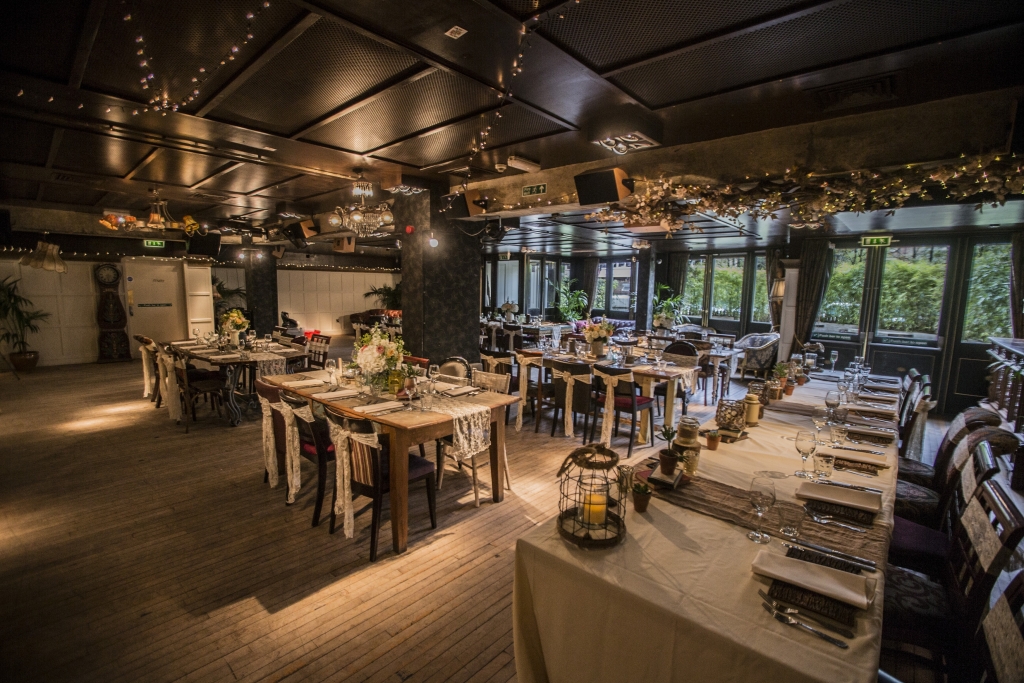 Web-site: As You Like It, Weddings
Wedding Venue Name: The Parlour at Blagdon, Newcastle
Venue Rating: 2nd out of 67 different North East venues attended
About: 'The Parlour at Blagdon is a unique and idyllic wedding venue available with exclusive use for the entire day; this secluded oasis is located on the Blagdon Estate in Northumberland but only 10 minute drive north of Newcastle.'
'Tie the knot in our stunning converted smithy and then enjoy relaxing in our landscaped gardens and beautiful Willow room.'
'Our highly professional events team has a wealth of knowledge and expert hands-on experience which will help you plan and organise your perfect Wedding day.'
'A rustic, romantic setting with superb food, the highest levels of service, crisp white linens.'
'A charming, shabby-chic appeal and intimate surroundings make this countrified location the perfect venue.'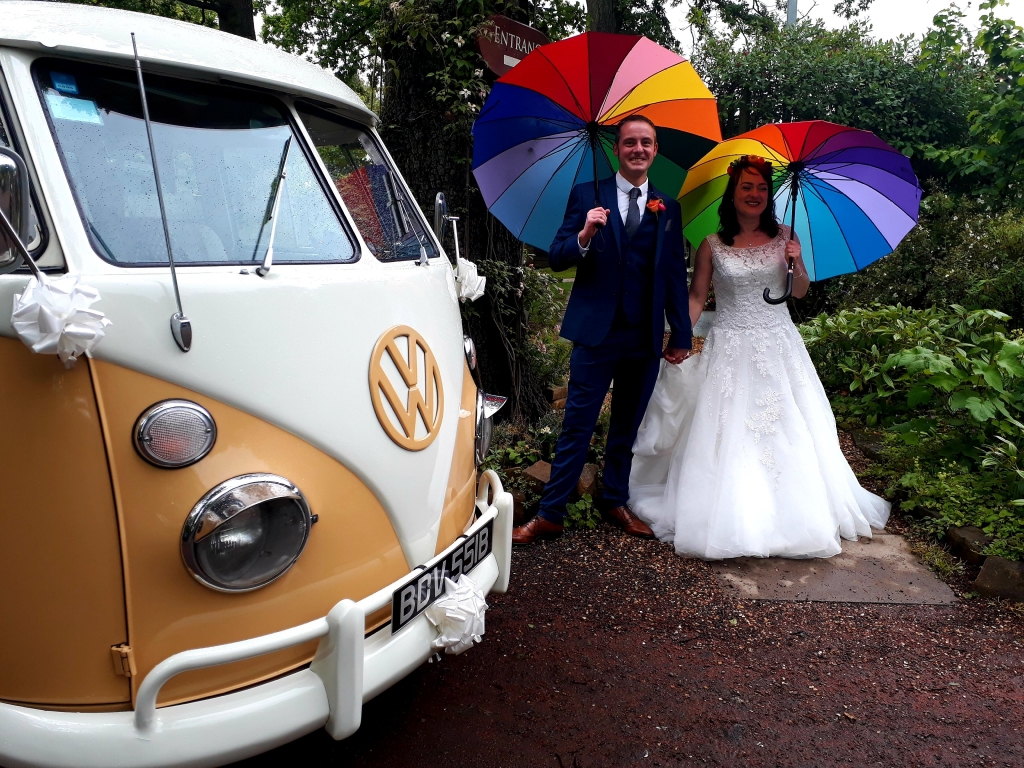 The Parlour at Blagdon, has to be one of the fastest wedding venues to gain popularity in the past couple of years. At Canny Campers we feel like we are there every other week and with good reason. The master of ceremonies is a great guy and will look after the wedding party, they offered me as a driver a drink and even a strawberry with chocolate on! I politely declined but it shows the character of the people who run the day and that is important I feel.
Photo's can be had with your wedding cars on-site as a field exists at the back of the venue away from the car park. You can get some lovely shots, with your guests chilling out with drinks and by the wedding cars themselves. On a sunny day it has a distinct festival feel which really suits a VW Camper or Classic Cabrio Beetle to add that extra touch.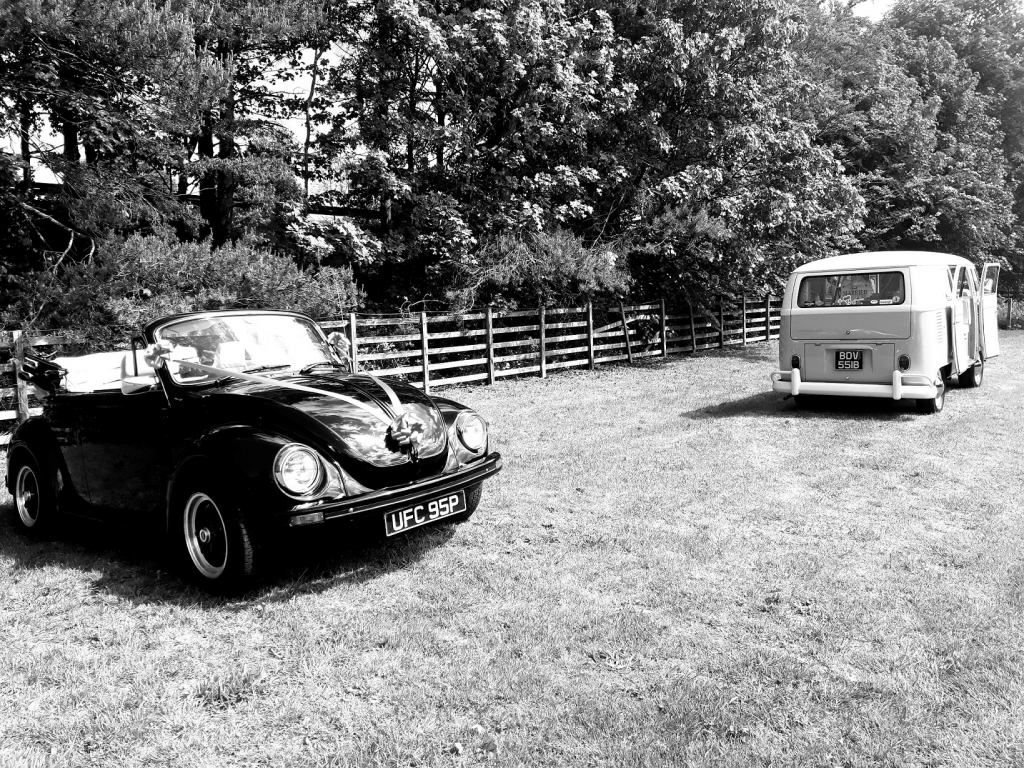 Not to forget if you prefer a drive out for photos in your wedding car, Northumberlandia is just a 5-minute drive away.
Web-site: The Parlour at Blagdon
Wedding Venue Name: Webster's Ropery, Sunderland
Venue Rating: Joint 3rd out of 67 different North East venues attended
About: 'The Ropey is a Grade 11 listed building built in 1793. It has a blend of heritage and history as once a world's busiest rope house making ropes for the shipping building industry operated by Mr Webster. The building is sensitively decorated and tastefully restored to keep the character, including the original open beams, exposed brickwork and stonework, original brass handrails and open fire place makes it a perfect venue for a wedding.'
'Set on the bank of the River Wear, the venue has a large outside space with seating and views over the river. Cobbled paths with trees and shrubs offer great photograph opportunities along with the backdrop of the building. The grounds are very private with a secluded, tranquil setting along with private parking. The venue is away from the hustle and bustle yet close to major roads and short access to the town centre.'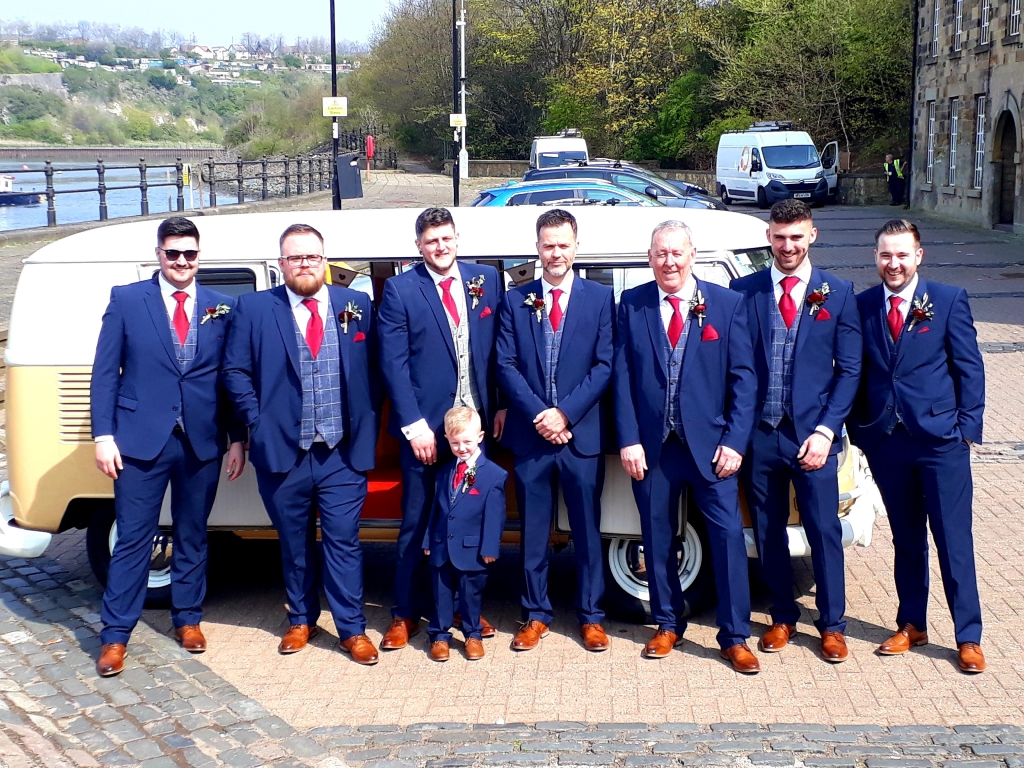 '100 guests can be held in the Banqueting Suite which is the perfect for a wedding breakfast reception. Natural daylight with beautiful views overlooking the river, the grounds and surrounding areas. It is a quirky traditional room with the old Ropery theme to it. It still has the restored wooden ceiling beams with crystal chandelier hanging down twinkling in the daylight, open stonework and private bar facilities. The room gives off a lovely atmosphere and has a great feel to it.
The Queen View Suite is licensed for civil ceremonies and can comfortably accommodate 120 seated guests. The room has natural daylight and lovely views overlooking the river and surrounding areas. A red carpet creates an aisle down the room along with the comfortable Chiavari chairs. This room is also used for the evening celebration reception and can accommodate up to 140 guests with a disco, dancing area and private bar facilities.'
'With superb food, outstanding service and a dedicated team to look after you we will make your event an extra special occasion.'
Canny Campers used to attend this venue now and then but in recent years it has become very popular, especially with Brides and Grooms who live in Sunderland and who's guests are most likely to be travelling from the same area.
As mentioned above, it has a nice secluded and private feel but it is still easy to get to and most importantly to get parked up when you arrive.
The campervan and / or beetle drive down the ramp and will pull up right outside the door. This is ideal if it's raining but also the courtyard and building are a nice backdrop for photos. There is plenty of space to get group shots and for your guests to mingle with a drink.
Web-site: Webster's Ropery, Sunderland
Wedding Venue Name: The Alnwick Garden and Treehouse, Northumberland
Venue Rating: Joint 3rd out of 67 different North East venues attended
About: 'Stowed beneath our enchanting woodland canopy, The Alnwick Garden Treehouse offers intimate ceremonies and elegant dining for your storybook wedding.'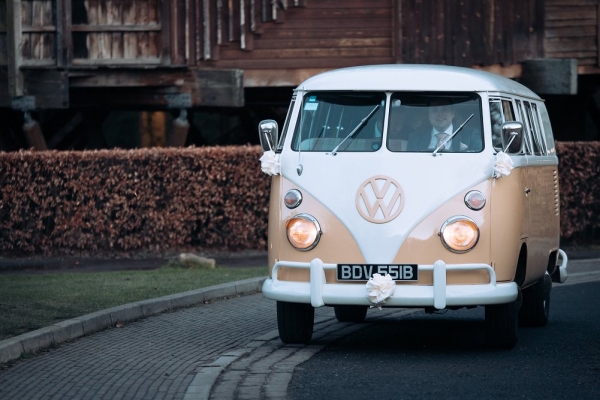 'Wrapped in thousands of tiny lights and warmed by a roaring log fire, The Treehouse creates a uniquely romantic setting for your special day. Our first-class team of chefs provide deliciously satisfying food, prepared using local produce and complimented by our finest hand selected wines and decadent cocktails, all served by our attentive waiting staff.'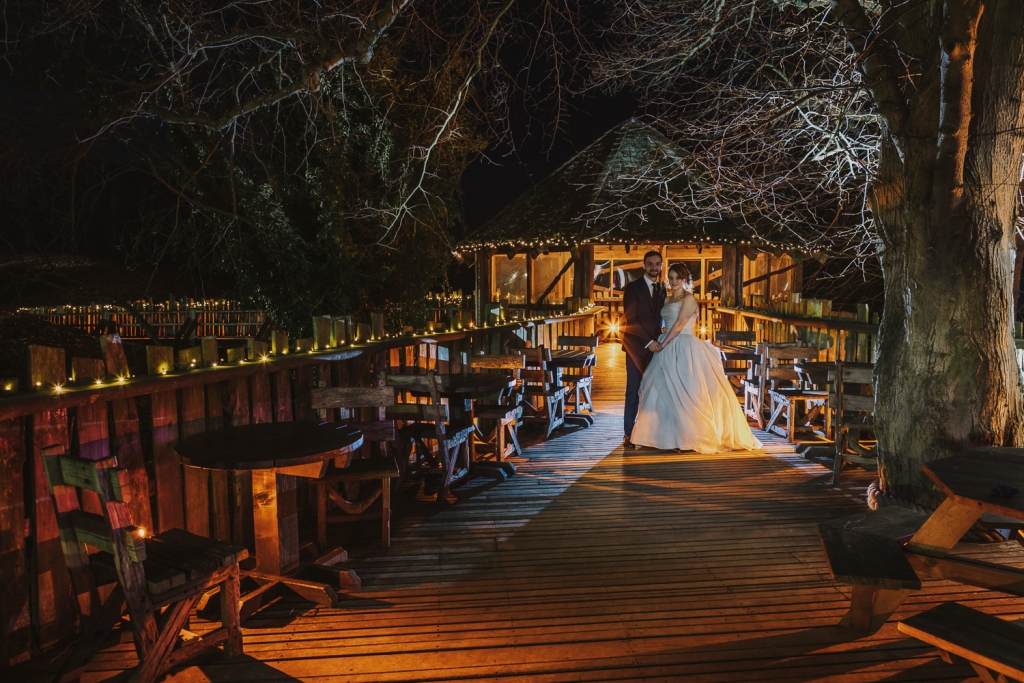 'Available all year round for day or evening private hire, The Treehouse is perfect for smaller civil marriage and civil partnership ceremonies for up to 60 guests and can comfortably provide a seated meal for up to 85 people. Our private decking, bar facilities and walkways provide intimate reception and entertainment areas, as well as picturesque settings for your photographs, and our Roost is a great space in which to customise your theme.'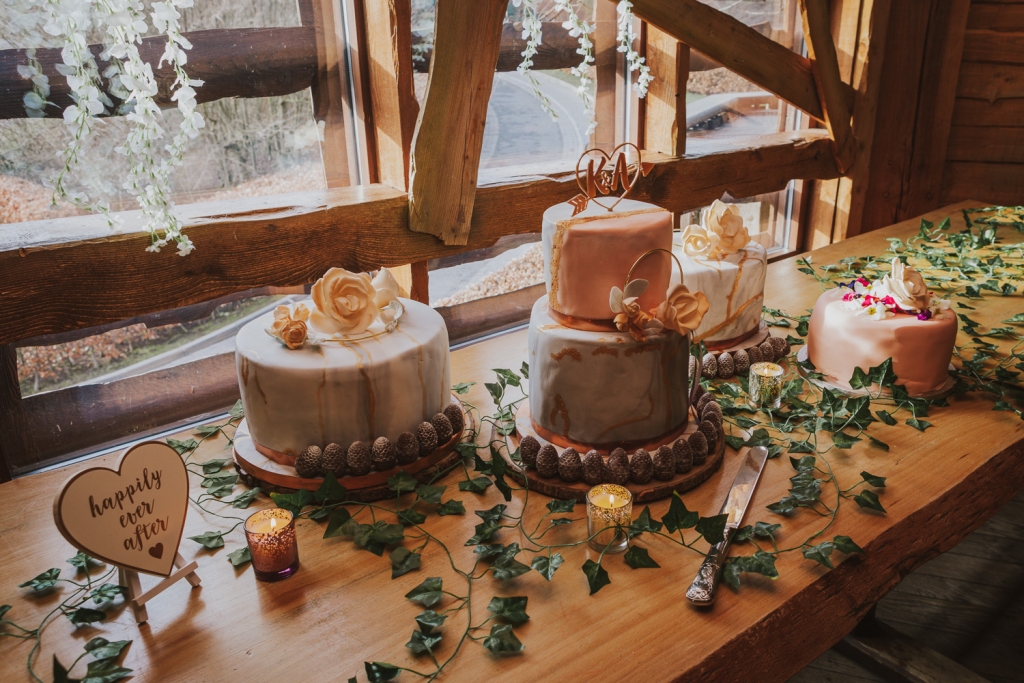 Canny Campers have been attending this venue for probably a decade now, it is a regular on our blog of most popular wedding venues, because it is simply stunning and magical. I think it could be number 1 but as we are located in Gateshead, we have to charge more to attend this venue as it's an hour drive before we start.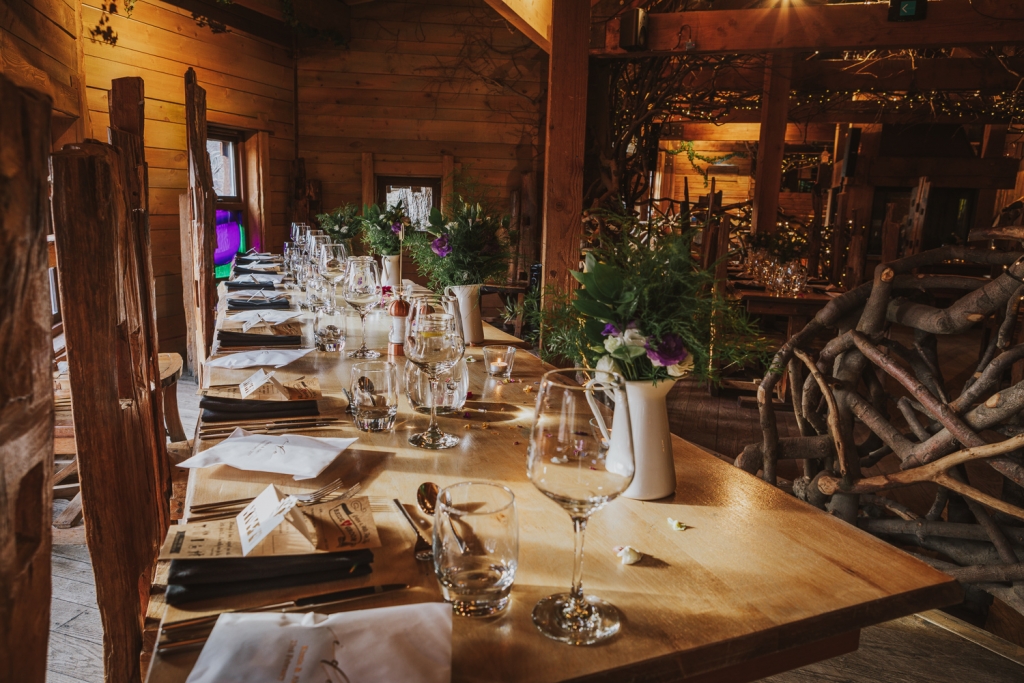 Many people book themselves and guests in to the Hogs Head Inn the night before and use my camper / beetle or both to do a few trips to the treehouse.
Once married you are just a short walk back down the wooden walkway to a picturesque setting ideal for group shots with our vehicles positioned to optimise the cool factor, with the treehouse in the background.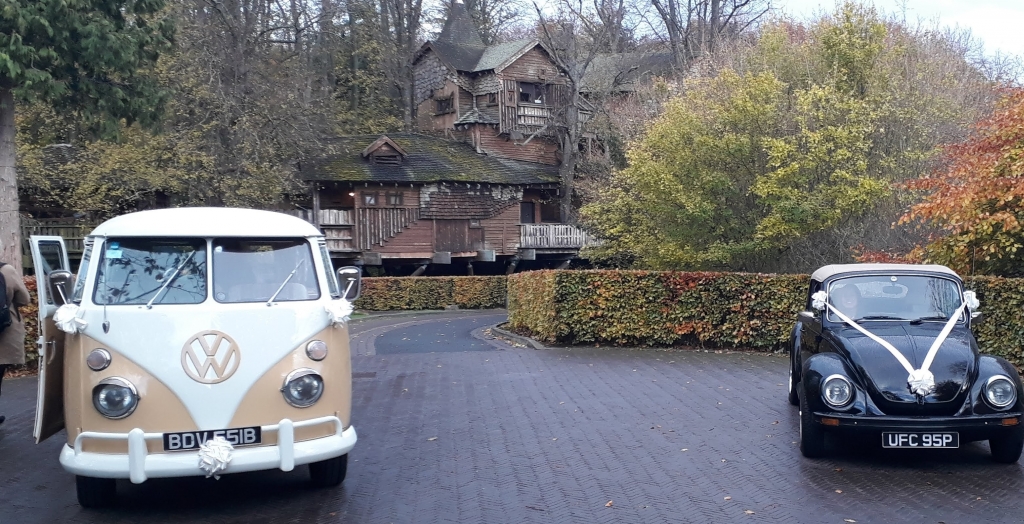 The master of ceremonies is really nice and helpful and will make you feel at ease before the big moment!
If you want something different but also perfect, you can't go wrong with the Treehouse at Alnwick, it is special.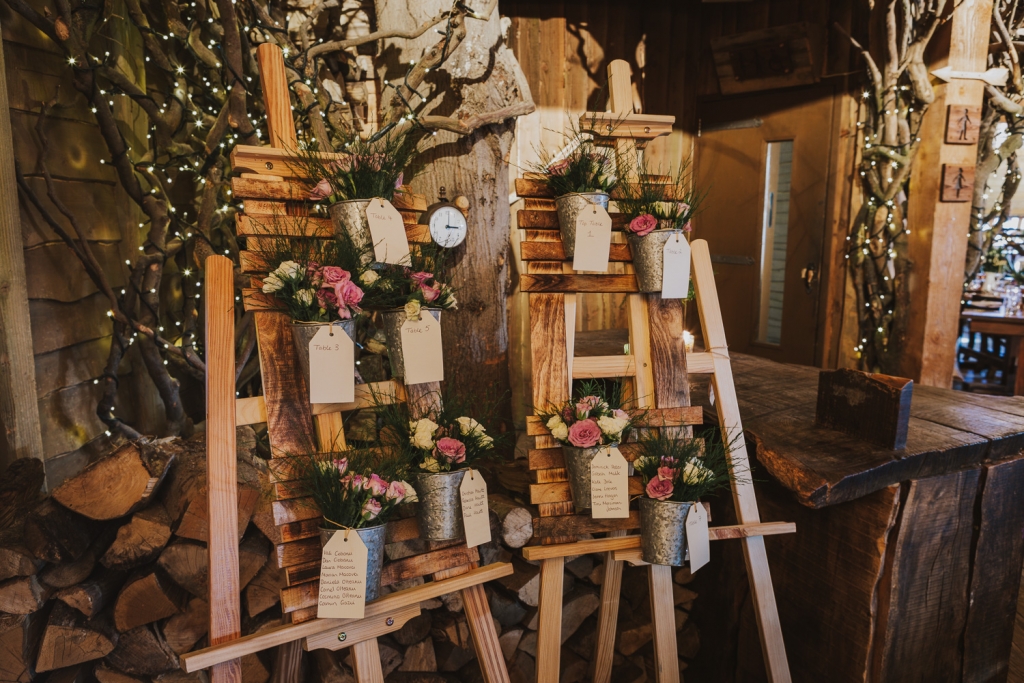 Web-site: The Alnwick Garden and Treehouse Wedding
Wedding Venue Name: South Causey Inn, Stanley
Venue Rating: 4th out of 67 different North East venues attended
About: 'South Causey Inn can provide you with a traditional country wedding set in the beautiful Beamish Valley, enclosed in the stunning country with a relaxed and informal environment.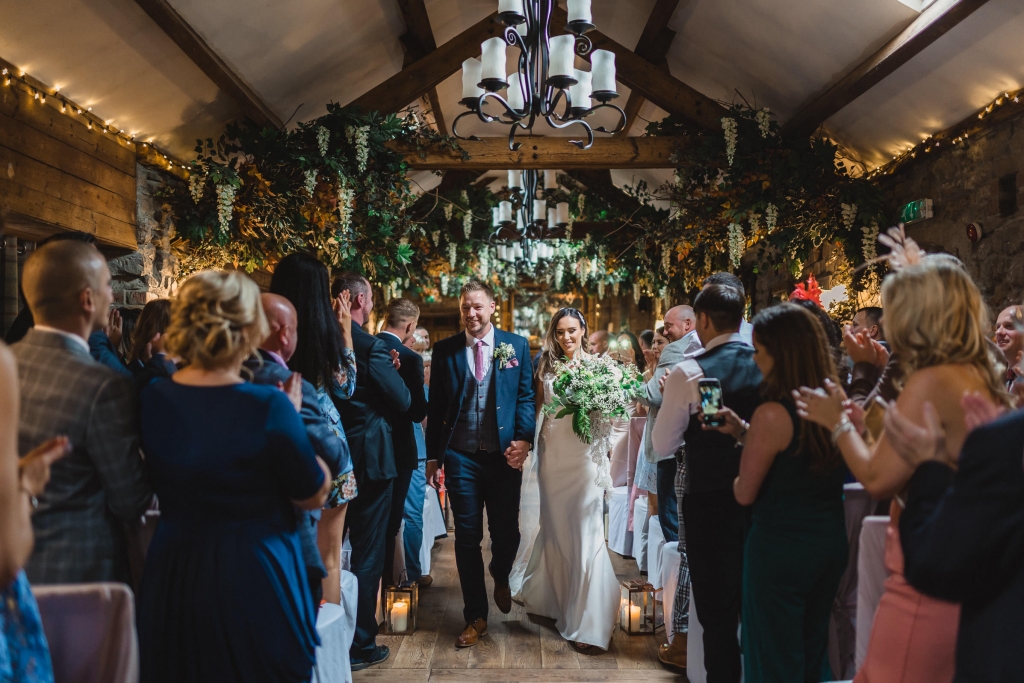 Our Old Barn and Durham Suite are set in 100 acres with beautiful flower and herb gardens, a wild meadow, and more formal lawns for those treasured photographs. We also have our own stunning lake setting which we will be happy to provide transport to and from on the day.'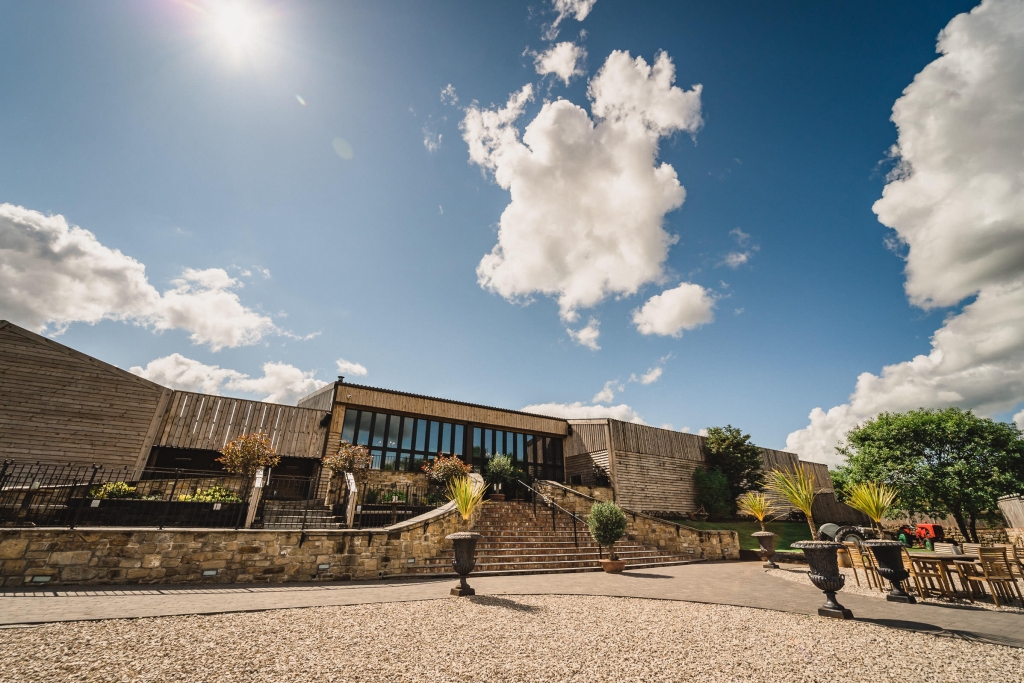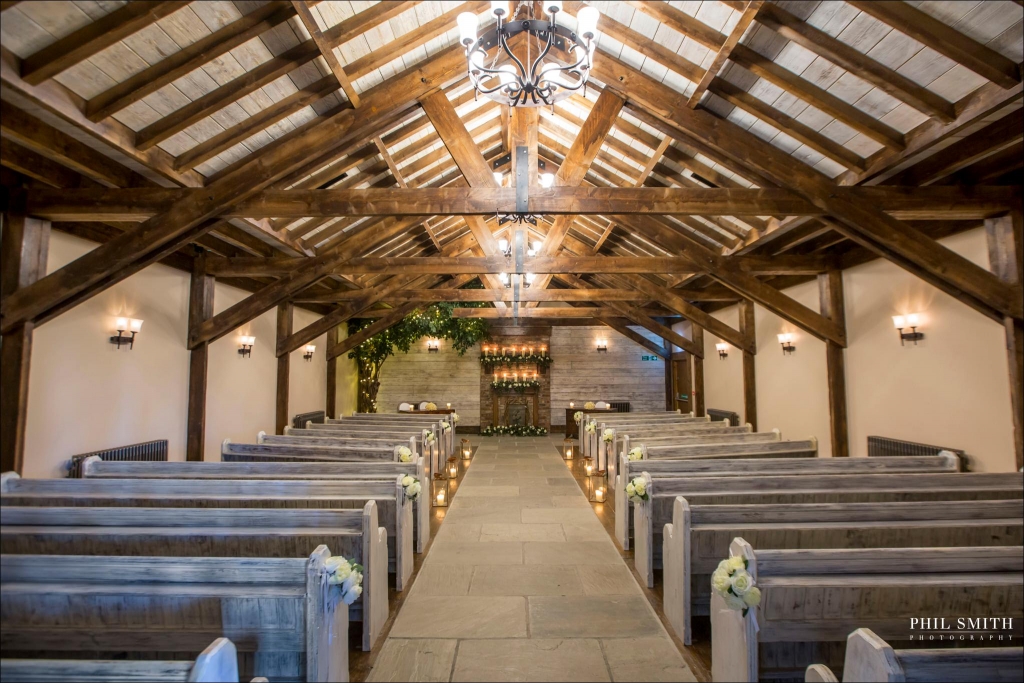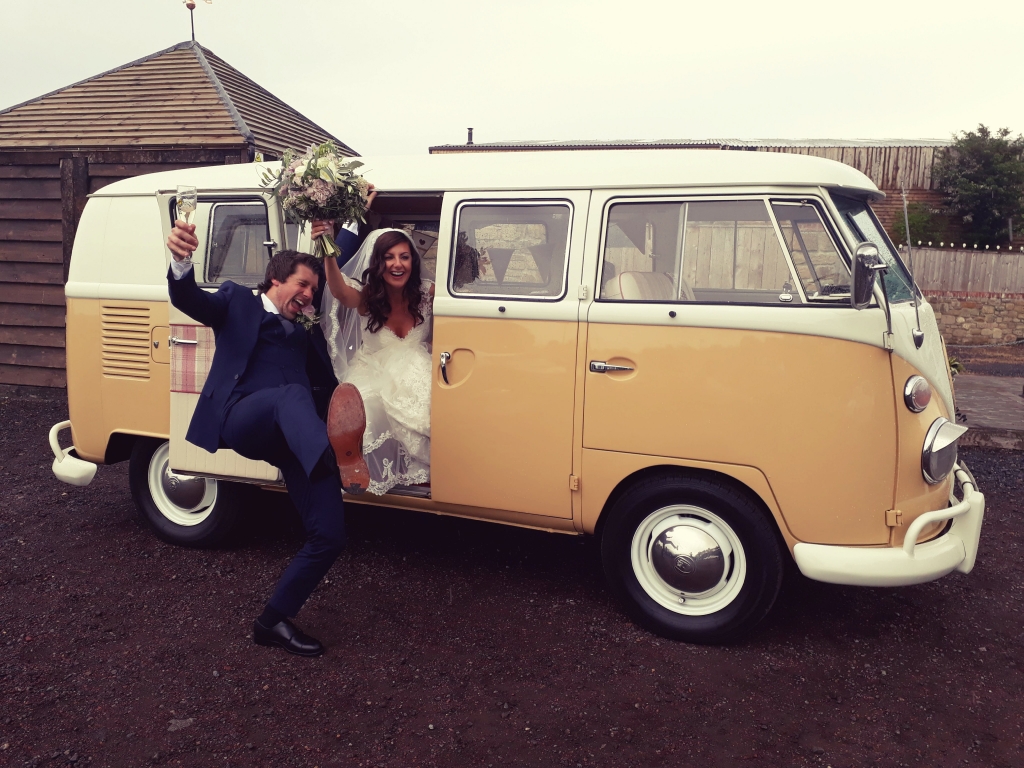 'Our team of chefs are on hand to create your dream wedding breakfast and we also have 41 bedrooms for your guests to stay. Now relax, sit back and enjoy the wedding whirl, confident in the knowledge South Causey Inn is with you all the way.'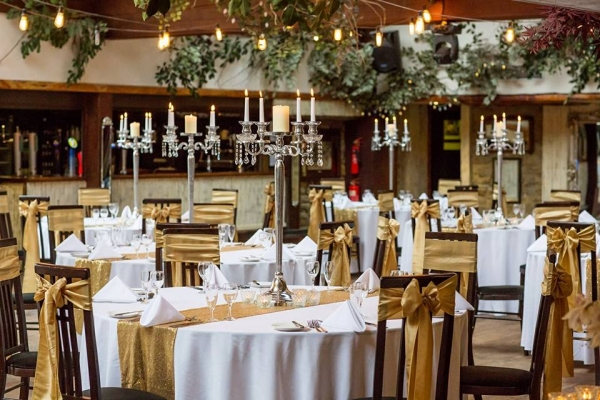 I must admit Canny Campers do attend enough weddings at the South Causey to add it to this list but we would love to do more here. The South Causey like many of our top venue's manages to balance plush, posh and quirky all at the same time, it is constantly evolving and investment in making the business better and better is clear to see.
They have an amazing new building called 'The Old Barn' which is very large and can accommodate large weddings, it has been finished to the highest standard. They also have other buildings and can accommodate large and more intimate weddings.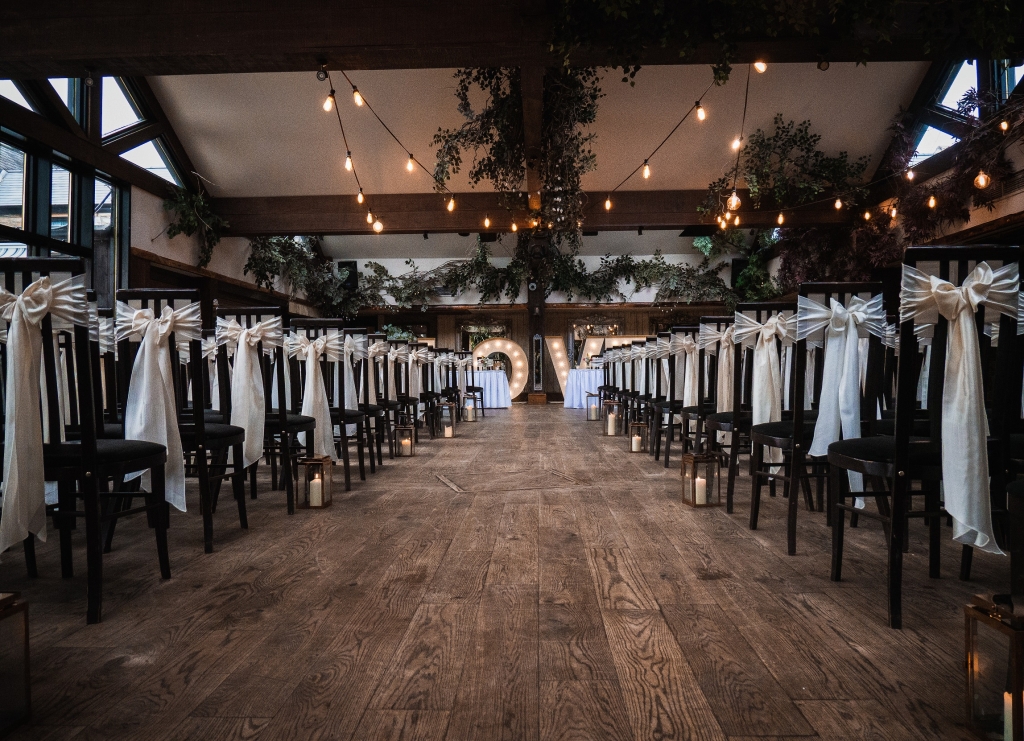 There really is too much to list with this wedding venue, from the amazing food to the plush and sometimes unique accommodation it really is a 5* venue.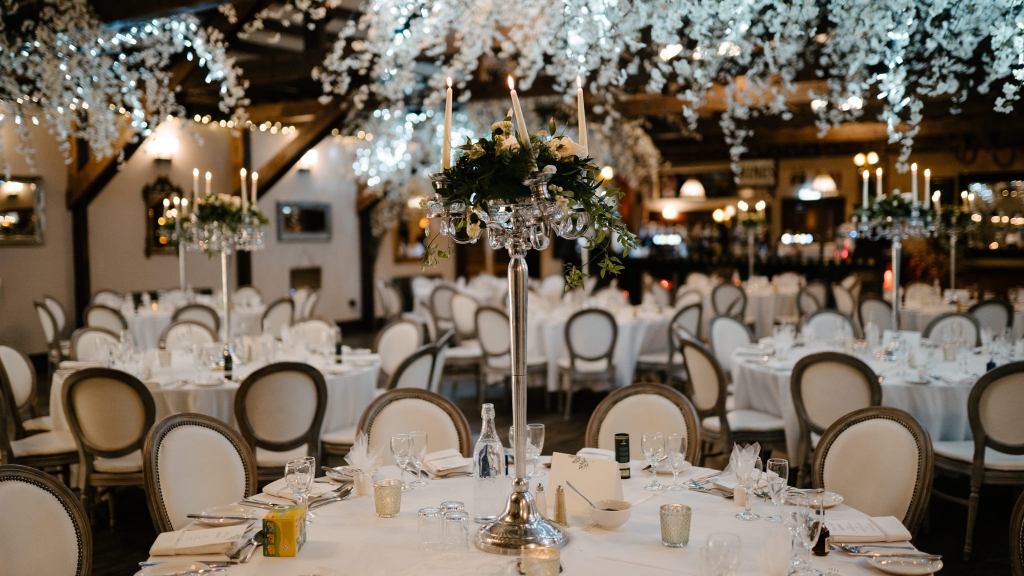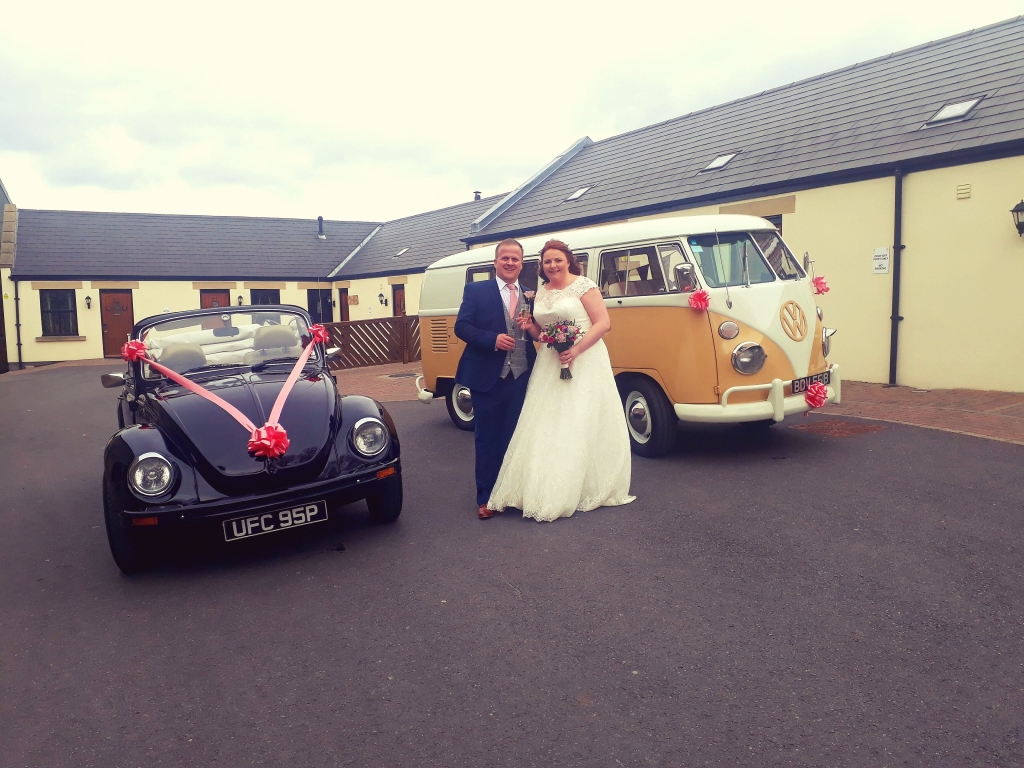 Web-site: South Causey Inn, Stanley
Canny Campers One to Watch!
When ever I look at the stats to put these blogs together, you can usually see a newish venue coming through that looks like it will be a massive hit with couples and a regular booking for Canny Campers. A few years back it was Healey Barn and they are now our most attended venue along with As You Like It, who are well established as a wedding venue favourite.
So then I believe the next big venue to the wedding market is going to be…. Wylam Brewery! I have a few bookings going forward for this venue and have attended a wedding there so far, I also have been for a Christmas night out.
It really is a perfect place to get married as its really central, the building is amazing and has the wow factor when you drive up towards it and around the glistening pond, it is beautiful outside as it sits within exhibition park and internally it is spacious, airy, well presented and a great space for mingling with guests but still allowing area's to chill.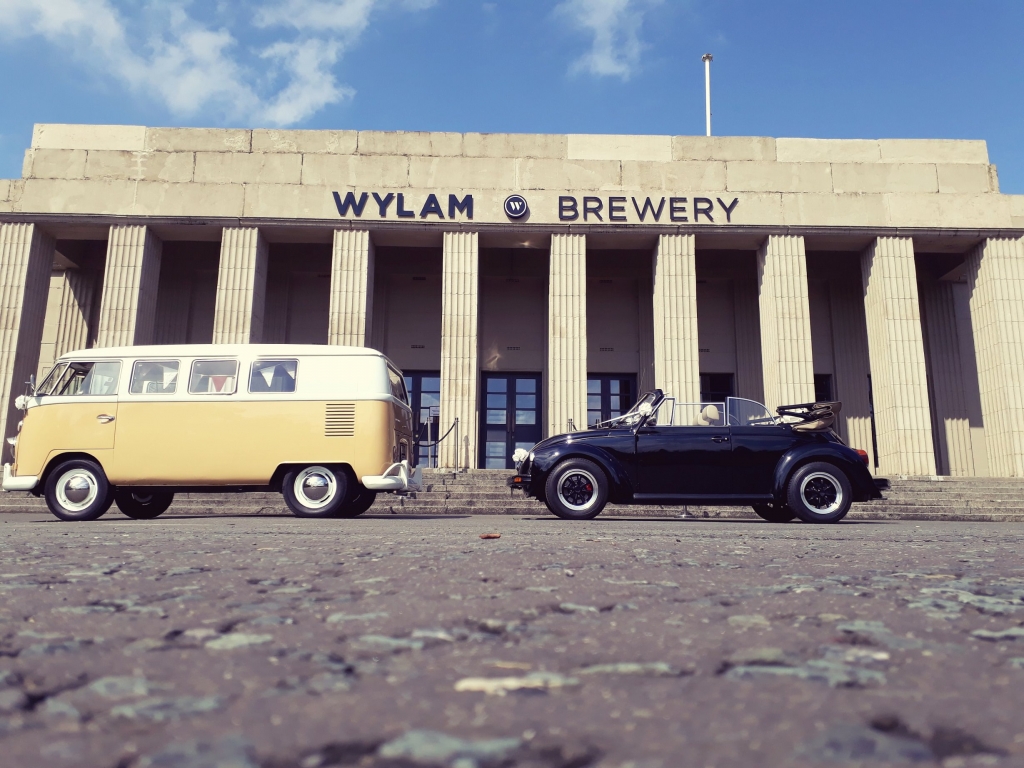 Check out there web-site here https://www.wylambrewery.co.uk/
Thank You
I would like to thank all venue's that Canny Campers work with but especially the above mentioned, who have helped to sustain and improve my small business, I can't recommend or thank them enough.
If you are looking to book quality transport to go with a quality venue, book Canny Campers! Check out our wedding package and thank you for reading this blog.
Feel free to check out the 2 old blogs that listed the top 5 venues in 2016/17 https://www.cannycampers.co.uk/top-5-north-east-wedding-venues-of-201617/ and the top 8 venues using data from 2009 – 2015 here: https://www.cannycampers.co.uk/canny-campers-8-most-popular-wedding-venues-in-the-north-east/