IMPORTANT NOTE: Brockwell Wood is not mine (as much as I would love it!) this blog is just my recommendation and experience when I went. To book you need to contact them via their web-site: http://www.blaydonburnfarm.com/contact-us.html (best to email as its a working farm) 
It's not often as an adult that you get that childlike rush of happy feelings that seem so frequent in your early years. I did however get that buzz when Julie randomly announced 'I think we should go to a wild camping site, after the wedding on Saturday'.
My genuine reaction was to say 'Get In' and clap my hands.
Thanks to a web-site I frequent for VW enthusiasts and their recommended camp-site page (VZI Recommended Campsites), I already had a site on my radar called Brockwell Wood.
What is Brockwell wood?
Brockwell Wood is 26 acres of ancient woodland, with large natural pitches hidden within the trees.
Brockwell mainly caters for people with tents, but they do have a couple of pitches suitable for campervans. It is important to say however this is not meant as a centre park type holiday.  It is getting back to nature, a safe place to go wild camping. You go into the woods,  then make your fun from the surroundings and what you have brought with you.
The pitches are very private, you know other campers are on site but you could be mistaken for thinking you had a full place all to yourself.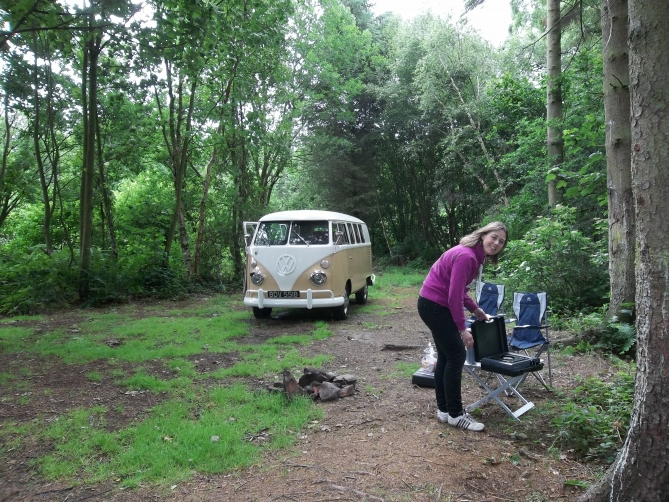 If you are looking for that back to nature experience this is the site for you. – With no shops, toilets or showers at the site, it really is a less is more experience.  You are free to light fires responsibly as long as you clear up afterwards.
On arrival you are provided with a map to find your way and a spade to dig your own toilet. You are welcome to fill up with water at the farmhouse.
For your fires you can use dry wood if you search for it such as fallen and felled trees, a saw can be made available from the farmhouse. Alternatively you can buy sacks of logs and lighting wood at a £6 and £3 per sack on site.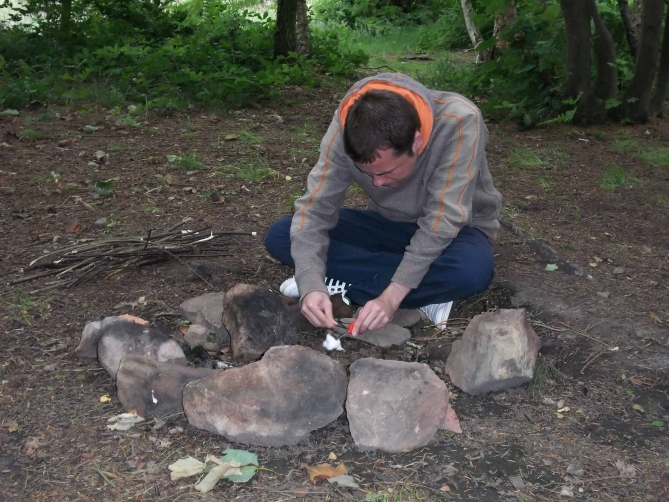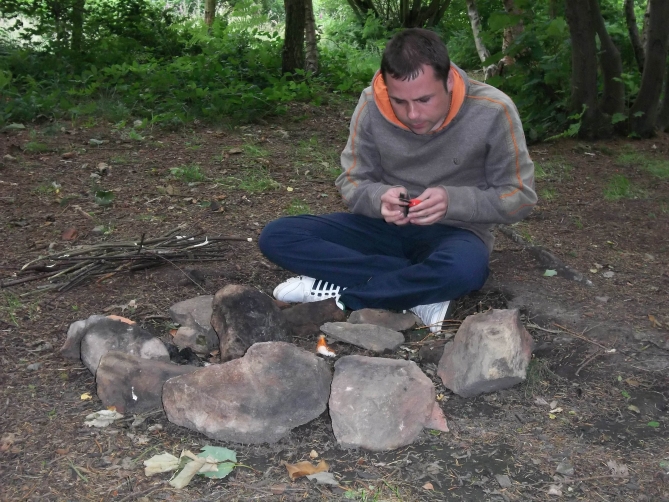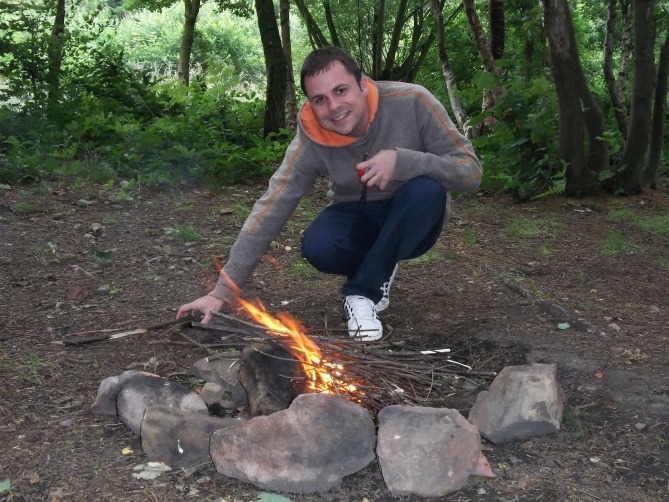 Dogs are welcome too if kept under reasonable control.
Within walking distance is a pub and the nearest shops are at Winlaton which is just 1 mile away. Brockwell wood is also just 7 miles from Newcastle City Centre.
Prices to Camp are £8 per person per night, £4 per child, under 5s free.
About my stay
We were only allowed to go for 1 night because they don't have toilets and Julie wanted to see what it was like before committing too much longer.
In fairness we were hardly 'wild camping' as we had our VDub with us loaded up with relative creature comforts to sleeping in a handmade shelter and hunting for supper.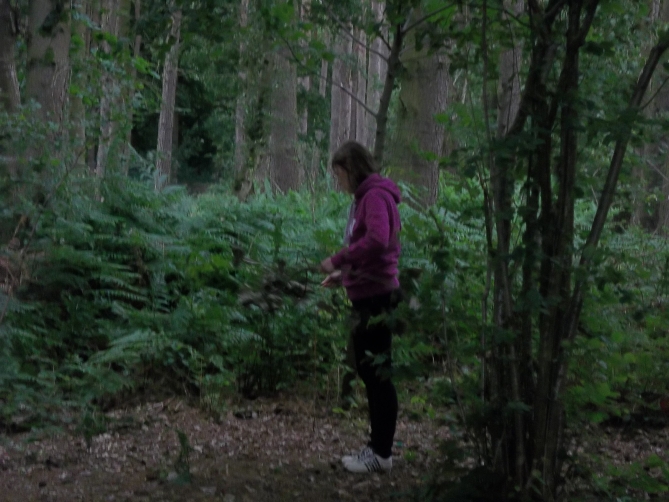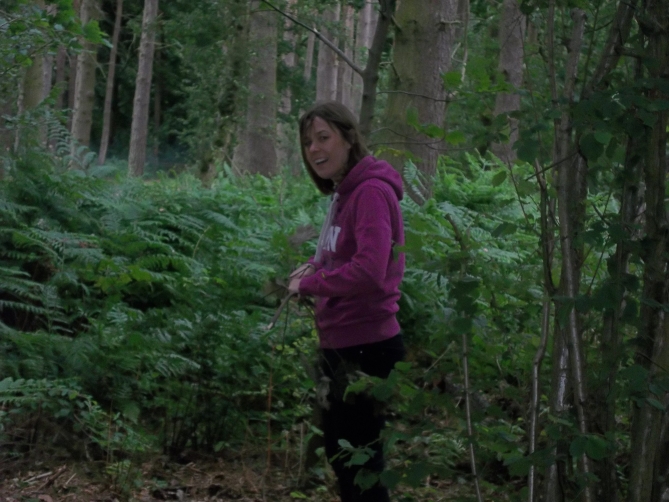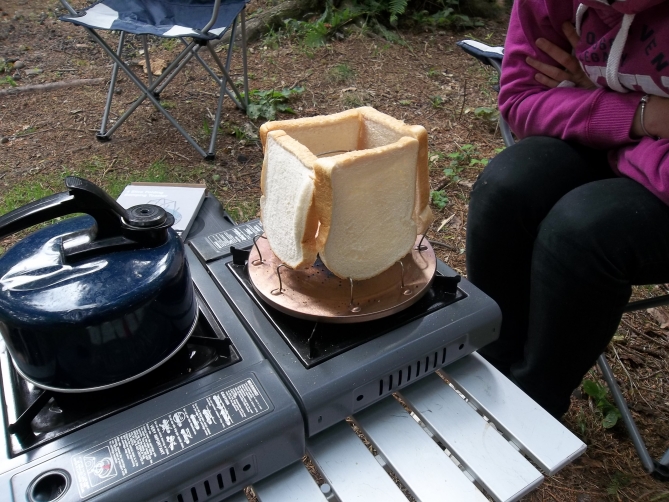 I did light my own fire using a technique that I learned at Taught in the Woods, by rubbing Vaseline on to a bit of cotton wool and striking a flint at it.
Once the cotton wool was lit, I added firstly my small sticks and when they got hold I added my medium sized sticks and finally my larger fire wood.
It does take some doing keeping the fire going with the soft wood I bought for £3 and what I could find lying around. I would recommend buying the logs for £6 as then you can relax a bit more as they will burn longer.
Fire sorted next was the food and I got the BBQ lit but had to sit beside it so it would stay alight as the wind was catching it. I did this labour intensive task whilst Julie prepared all of the food. Starting with a sausage sandwich using local sausage, marinated butterfly chicken salad and finally prawn and tomato skewers all washed down with copious amounts of ale.
It has to be said sitting on a log in the middle of the forest you would expect to be uncomfortable but I was quite contented and at home, I would even say it is less rough and more romantic.
We didn't do much, just chill out, chat and listen to BFBS Radio which had some excellent music on that night. Check out BFBS if you can download the app or have a digital radio, i love it as no adverts or stupid competitions every 2 songs. It's the British Forces radio station but anyone can tune in and the mix of music is excellent.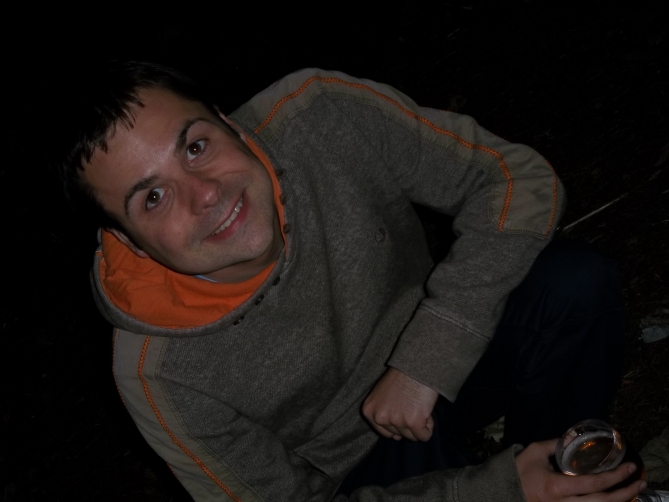 After a really good night we went back to the VW Camper and went to sleep, no need to put the window covers up as nobody can see you.
It was really cool to be parked up for the night in the middle of a forest in your own camper.
In the morning we had a walk around before setting off for home, just 20 minutes away in time but seemed a world away from our Brockwell Wood surroundings.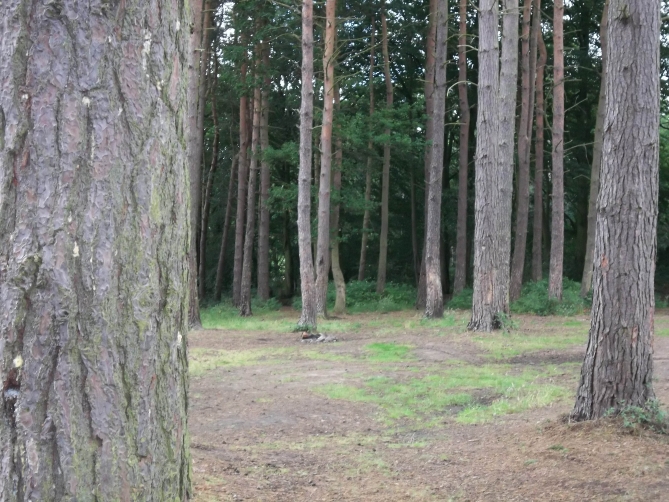 I think we have done really well with campsites this year. Our next trip and blog is for Hooks House Farm in Robin Hoods Bay, not at all a wild camping site, but the best views and plenty to do.